These tiny beaded stars are beautiful in their simplicity. The motif can be used in a variety of ways – from a single star on a chain to dozens as a charm necklace. Make them in soft colors like these for understated day wear or in metallic beads for sparkling night-out looks. After a bit of practice you can make one in just a few minutes.
Supplies:
– seed beads – size 15 are shown, but this will scale to any size seed bead
– beading thread – OO Nymo or as appropriate
– beading needle
– pointy scissors
Thread the needle, work with the thread doubled.
String on 10 seed beads.
Stitch through them to make a loop, and then through them one more time.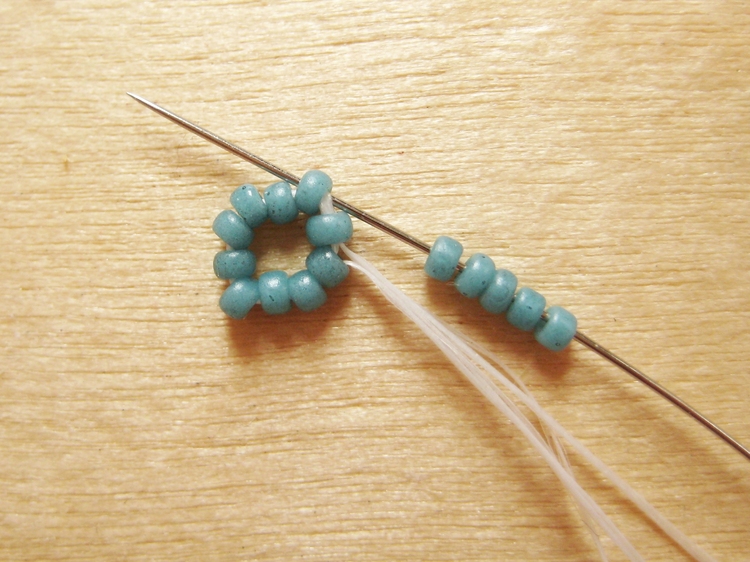 String on 5 more beads. Skip a bead in your original ring, then go through the next bead.
Repeat that all the way around.
Stitch up through 2 beads you added in the last row.
Skip the third bead in that loop, and go through the remaining 2. This will make your star points stand out more sharply.
Go through the bead in the original loop, then repeat this for all of the remaining points.
Keep stitching the remaining thread through the star until there's no room left – at least 2 times around at the center or points is preferable. Then cut your thread as close as possible.
This could work as a necklace or bracelet.
I think it would be so pretty if someone made a whole bunch of these and turned them into a necklace (then submitted it to the readers gallery.) I'll do it myself if I find the time!