The look of a watercolor wash is a great effect on fabric. I use it as a background for needlework – it's more complex than a solid colored fabric, but it is still soft enough to not compete with the focal point of the project.
Supplies and Equipment:
– fabric
– acrylic paint (not watercolors!)
– fabric medium (optional)
– water
– brushes
– embroidery hoop or other fabric support
– paint mixing surface (I use a plastic container lid)
Fabric
Natural fibers take paint better than synthetics. I'm using a plain, unbleached muslin in these photos.
Paint
Acrylic paint is a combination of pigment and acrylic polymers to bind the pigment to whatever you're painting it on. These binders are generally waterproof. If you are making something you intend to wear, wash, or carry around it is worth it to either use fabric paint or mix fabric medium into your paint. This will increase the water resistance of the paint and keep it flexible. Actual watercolor paints don't have a waterproof binder so they aren't permanent enough for this technique.
Paint Colors
I use high quality artist paint for this technique, and I generally only use one color of paint because I'm making a background for needlework. If you want a purely monochromatic painting look for a paint that lists only one kind of pigment on the label. My Prussian Blue paint contains "Ferriammonium Ferrocyanide" only. If you want a little more color variation, look for a paint that lists more than one kind of pigment. The Hooker's Green Hue Permanent contains "Phthaylocyanine Green, Arylide Yellow, and Bone Black" which explains why there are some areas that clearly appear to be more yellow than green.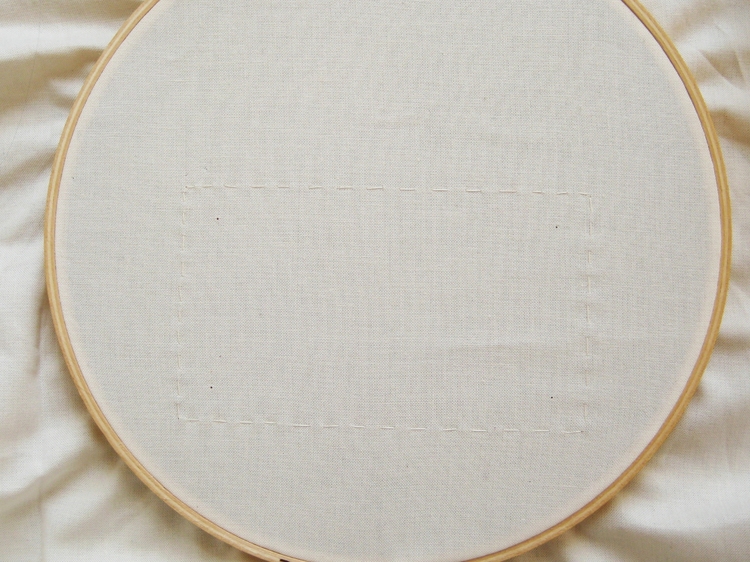 Stretch your fabric in your embroidery hoop, and baste the edges of your work area if that is important to what you're doing. Most fabric marking pens will disappear through the process of painting but basting stays where you put it.
Mix some water with your paint. The thinner the paint the lighter the color. Test it on some scrap fabric first, and start with a lighter color if you're worried. You can always add more paint later.
Applying paint to dry fabric will give you sharper edges.
Wetting the fabric before you add paint encourages the paint to blend out more.
Apply a coat of paint, then let it dry. The color usually lightens as it dries.
Keep adding paint and letting it dry until you're happy with it. I was trying to achieve a misty ocean/cloudy sky effect for an upcoming project, so I stopped here.
Some very minimally diluted paint brushed vertically gives the impression of grass. Try not to use paint that hasn't been diluted at all, though, because that can become difficult to stitch through.